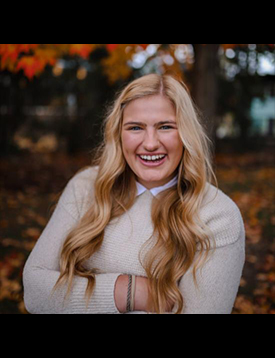 Adelaide Dykstra, E.I.T.
Field Engineer
Adelaide Dykstra is a certified Engineer in Training. She received her Bachelor of Science in Engineering, Civil and Environmental Concentration from Calvin University in Grand Rapids, MI. She received her Engineer in Training (EIT) Certification in February 2022.
Adelaide is an FAA-Certified Drone Pilot with a Remote Pilot Certificate from the FAA.
Through the Calvin University Engineering Department, Adelaide worked on her Senior Design Project with three of her classmates. Her group partnered with a local organization to redevelop a property with an abandoned building to become environmentally and economically beneficial to the surrounding community. After researching the property and the community, a site layout was developed with architectural plans for rowhomes, individual homes, and a community building that incorporated green infrastructure, care for the community, and affordability for future homeowners.
Adelaide worked as a Riggs Intern and a Purchasing Intern at Consigli Construction in Milford, MA. As a Riggs Intern, she worked within their self-perform department estimating for projects, learning about the services they provide, and visiting job sites to see current projects. As a Purchasing Intern, she worked within their purchasing department learning about the pre-construction side of projects, how subcontractors bid a project and how they are chosen, and the tasks the purchasers do to buyout a job.