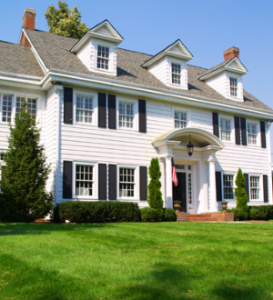 Is all house and condominium siding the same?  Of course not!  And choosing the right siding is more than just color, design, aesthetics and curb appeal.  Durability is very important as well as energy efficiency which is fast becoming more commonplace and available.  When it comes time to sell, the right siding can up the resale value.  Siding acts as a barrier to prevent rain, snow, wind, insects and dust from seeping into your home.  Choosing it and then installing correctly will make your home more comfortable, beautiful, and appealing.
What siding choices are there?  It almost seems endless so here are few of the most common:
o    Board and Batten
o   Log
o   Wood Shingle Siding
o   Horizontal Wood Boarding
o   Vertical Wood Boarding

Fiber Cement
Stucco
Imitation Stone/Brick
Engineered Wood
Insulated
Concrete
Glass Exterior
Half-Timbering on Stucco
Steel Log Siding
Wow, that's a lot of siding options.  It may seem overwhelming but it's very easy to whittle down the list if you start with knowing the "look" you want.  Clearly if you want a clapboard/wood shingle look, you can easily cut the list above in half.  If it's a stone exterior that appeals to you, brick, stone, concrete and stucco move to the top of your list.
Now how to choose which siding material?  Well your budget is a good start and luckily there is good and durable siding available for almost any budget.  The key to a successful and durable siding project is how the siding is installed and how well you maintain it.
Wood siding is the most traditional type.  It's very versatile, available in several styles, it's natural looking and if maintained, can last a very long time.  Cedar, pine, spruce and redwood are the most common types and you can either leave it in its natural state (although clear coating may be recommended) or stain or paint it any color you want.  The prices are very flexible, from $3 to $12/sq.ft.  It really depends on the look you want and the budget you have.
For virtually zero maintenance choose an engineered material that looks almost exactly like wood (also available to look like stone and brick).  Engineered man made sidings are more expensive but with very little to no maintenance you can save money down the road.  The most affordable engineered material is vinyl, a good place to start when pricing out all your options.
One of my favorites is brick.  Brick can cost up to $12/sq.ft. while brick veneers can range from $4 to $6/sq.ft.  Brick exterior does not need a lot of maintenance except for occasional washing and re-pointing.  With proper maintenance can last up to 100 years.
So, you chose the siding you want, now you have to install it.  Poor siding installation can have a serious detrimental effect on your home over time.  You must choose the right contractor who is schooled on the siding you choose.   Don't take anything for granted.  We have inspected many buildings with very expensive siding that failed because it was not installed correctly.  So, complete your due diligence.  Every siding manufacturer have great web-sites with installation instructions and recommendations.  Most also include a listing of contractors who are certified to install their product.  Learn the basics and then quiz your contractor.  Ask your contractor if they have attended the manufacturers training program and use all of the recommended fasteners, techniques, and tools.  If the contractor is a bit tight lipped, move on.  Reputable contractors want your business and they are the ones that will take the time to ensure your confidence in them.
Recently we visited a home and the owner was very puzzled as to why the siding, which happened to be vinyl and recently installed, was bubbly and wavy.  Well the thing about vinyl siding is it expands and contracts with the weather.  The contractor had nailed the siding tight to the sheathing and the vinyl couldn't slide with-in the nail flange.  As a result, the siding warped in the warmer weather and looked awful.  To correct it he would need to take the siding down and start over.
Well that wraps up a brief explanation of the many sides of siding.  Taking your time and doing your homework will help ensure a successful outcome.
Criterium Dudka Engineers, Copyright ©2019